This trip report is severely delayed, but that's the way it goes sometimes! Life gets busy! Regardless, I wanted to at least document my experience, for my future reference. There were a lot of great moments and I was ready for another Expo.
The Day Before…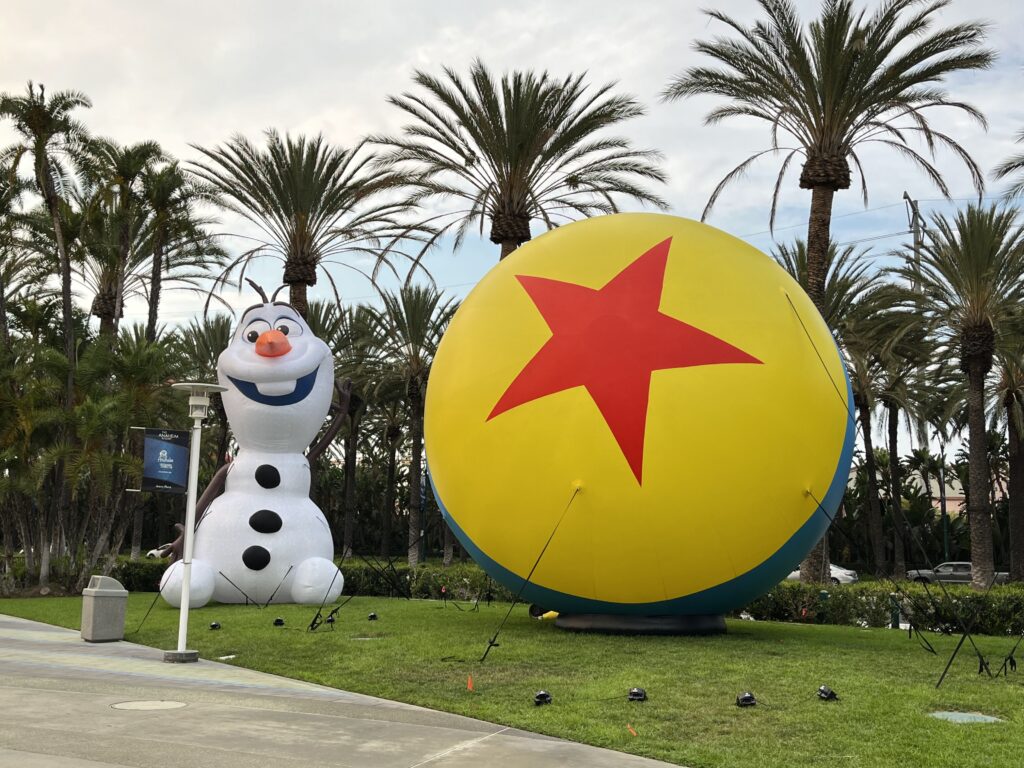 I try to scope out the area before the actual Expo, as they are known to make changes from the prior Expo. Security was laid out much like in 2019, as well as many of the queue for the halls. One slight change was Will Call being in the Arena, since that was also being used for the exhibit displaying Walt's Plane (more on that later).
Over at Disneyland, they had more Disney+ Day celebration happening in the esplanade. They also had special Mickey Ears being handed out in the Park, but they were all gone by the time I got there. Thankfully, I was able to track down the special blue Disney+ Day churro though!
Day 1 – September 9
Society of Explorers and Adventurers
To start off the Expo, there were some pretty compelling panels to choose from, but I was drawn to the "Society of Explorers and Adventurers" panel. There was a rumor that there would be some announcements about S.E.A. expanding in the parks!
The panel consisted of Julie Kagawa, Mark Lavine, Kiran Jeffery, Charlie Watanabe, and Juleen Woods. Together, the walked us through the various places you would find S.E.A. in the different theme parks. There was a running gag to NOT call it "sea", but use the initials when referring to the society. We talkeda bout Tokyo Disney Resort, Hong Kong Disneyland, Walt Disney World, Disney Cruise Line, Aulani Resort, and (of course) Disneyland Resort.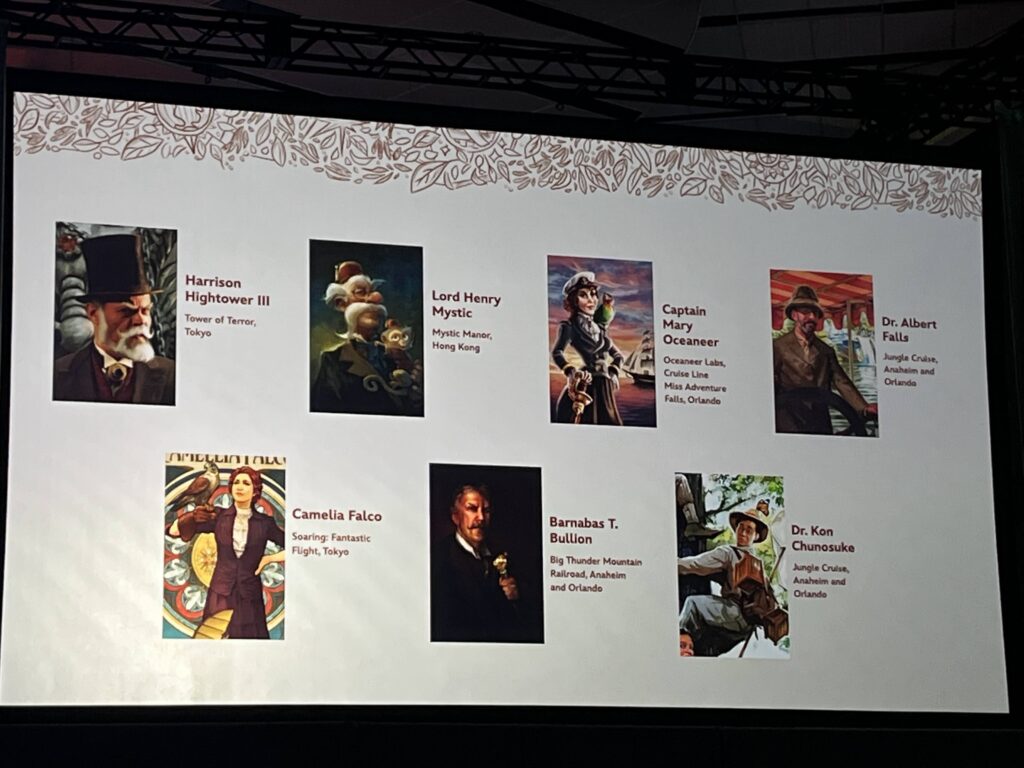 The S.E.A. has also grown to evolve into literature, with "Shinji Takahashi and the Mark of the Coatl". The book has a recommended age-range, from 8-12yrs old, however many adults have enjoyed it as well. The book takes place in the S.E.A world, following Shinji and Lucy on their adventure.
There is a follow-up book called "Shinji Takahashi into the Heart of the Storm". This is expected to hit all of the normal formats in April of 2023! I'll have to see if Annika has interest in checking out this series. It is a bit different than what she normally reads, but should be in the target audience.
Charter Member Lounge
Having been a Charter Member of D23, I'm always curious to check out the Charter Member Lounge. It has varied in its amenities and features over the years. This year, it had a number of tables, chairs, and a few photo ops
The photos show it to be pretty busy, but most of the time it was less crowded. I find it to be a nice quiet respite for eating my lunch, having a snack, or just relaxing for a short while. It was relatively quiet, when compared to the rest of the convention spaces.
Disney Music Emporium
Being a fan of Disney music, and especially vinyl records, I always make a point of stopping at the Disney Music Emporium. I was walking by, and the line was very short, so I had to jump in. I knew that they would likely run out of things later in the Expo, so it was the right opportunity.
I acquired the Harmonious CD, thinking that the show may not be around for a lot longer (which was announced later in the weekend), TRON soundtrack (vinyl), Buena Vista Records shirt (for Becky ), and Adventure Thru Inner Space (vinyl).
Disney and Marvel Games Showcase
I was pretty worried at first, as the first 15+ minutes of the showcase were pre-canned videos that highlighted games that were coming out. Have no fear though! They did bring out the game designers and producers, to help talk about some of the much awaited games. There were so many games mentioned during the presentation, that it would be too much to list here. Check out the official video from the event:
I'm personally most curious to see Disney Dreamlight Valley and Disney Speedstorm (participated in the beta). At this point, I've already been playing Marvel SNAP and LEGO Star Wars: The Skywalker Saga.
Studio Showcase : Celebrate the Magic of Disney and Pixar
As the presentation title implies, the Disney and Pixar studios had the opportunity to share their upcoming projects. So many exciting films and shows are coming out over the next couple years. We've already seen some of these be released, such as Strange World. Looking forward to seeing Inside Out 2, Elemental, Snow White, and Haunted Mansion. As always, it was very rushed and jam packed with celebrity cast appearances.
Day 2 – September 10
Studio Showcase: Marvel Studios, Lucasfilm, and 20th Century Studios
The craziest part of the whole presentation, was a LIVE presentation of "Rogers the Musical!"
The presentation ended with some scenes and previews of "Avatar: The Way of Water". It was impressive to see at the time, and just as impressive to see it in the theater now.
Magic in the Air: 30 Years of The Muppet Christmas Carol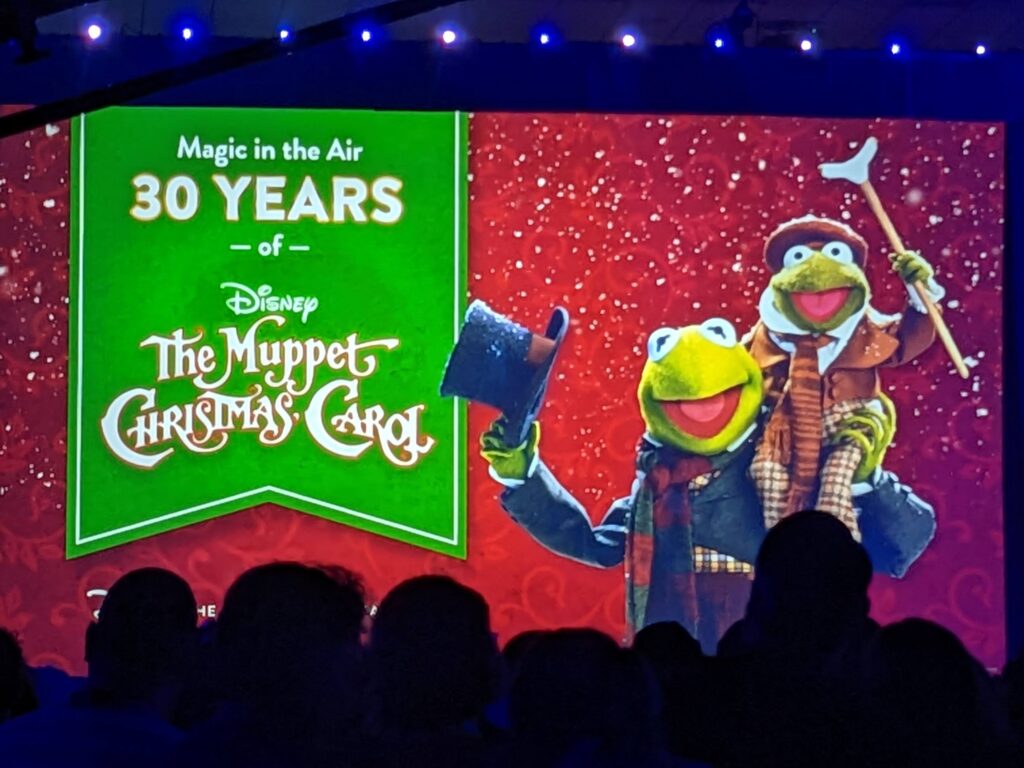 The Muppet Christmas Carol panel was everything you could possibly want from a Muppet panel, and more! I nearly missed this panel, but was lucky enough to get a seat! The panel consisted of Brian Henson, Dave Goelz, Nina West, Paul Williams, and Polly Smith.
It was amazing to hear about the costume creation, and how they went to great deal of authenticity and detail in their creation. There are lots of details that were never seen, but added to the authenticity of how the costumes would work and show. The crew were very dedicated to the film, even though it had a surprisingly small budget.
Brian talked a bit about how Michael Caine took the role very seriously and wanted to play to the Muppets as if they are real. He knew that he needed to play the co-stars as real so that it would read to the audience properly.
I talked a lot more about The Muppet Christmas Carol panel, on the Can't Wait for Christmas Podcast – Episode 101! Make sure to check it out!
Disney's Epic Entertainment Showcase: The Musical: The Extravaganza!
I wasn't sure what to expect for this presentation, but it was a ton of fun and an energy filled time. It kicked-off with a live Muppet performance, to promote The Muppets Mayhem coming to Disney+ in 2023.
This was followed by a huge dance number to promote High School Musical: The Musical: The Series, which will have Seasons 3 and 4 coming to Disney+.
We continued on and learned about American Born Chinese, High School Musical 4, Percy Jackson and the Olympians, National Treasure: Edge of History, The Santa Clauses, and many more.
Building Walt's Florida Project: Walt Disney World, from Dream to Reality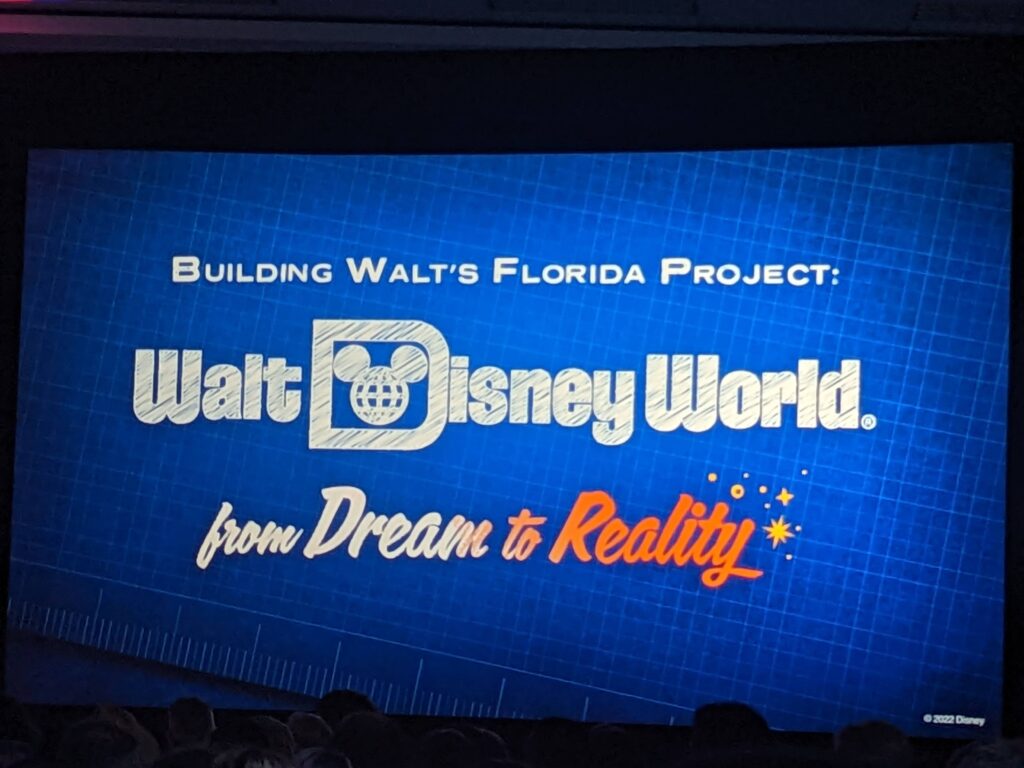 The day finished with a panel about the beginning of Walt Disney World. The panel consisted of Bob Gurr, Peggie Fariss, Debby Dane Browne, and Tom Nabbe. It was a great panel, but largely known information. Some of the most interesting pieces to me, were stories surrounding the Walt Disney World Welcome Center, which welcomed visitors before the resort was completed.
Day 3 – September 11
A Boundless Future: Disney Parks, Experiences and Products
Sunday morning started with the Disney Parks presentation! Lots of rumors and speculations were buzzing around the Expo, throughout the weekend, anticipating what might be announced during the presentation.
One of the first exciting announcements, was Mandalorian and Grogu coming to Batuu at Galaxy's Edge. Most people seemed to be very excited about this, although some definitely felt like it messed up the legacy/mythos of Batuu.
We also had Mark Ruffalo and Kevin Feige join, to announce a walk-around Hulk for the Avengers Campus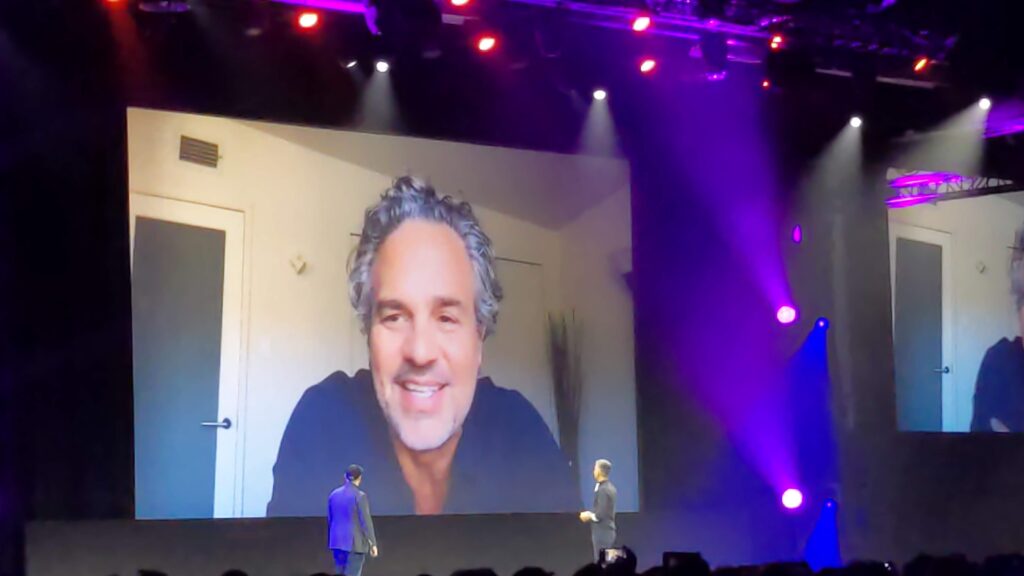 Next they announced about bringing the Multiverse to Avengers Campus, with an attraction that will be based on a King Thanos that won.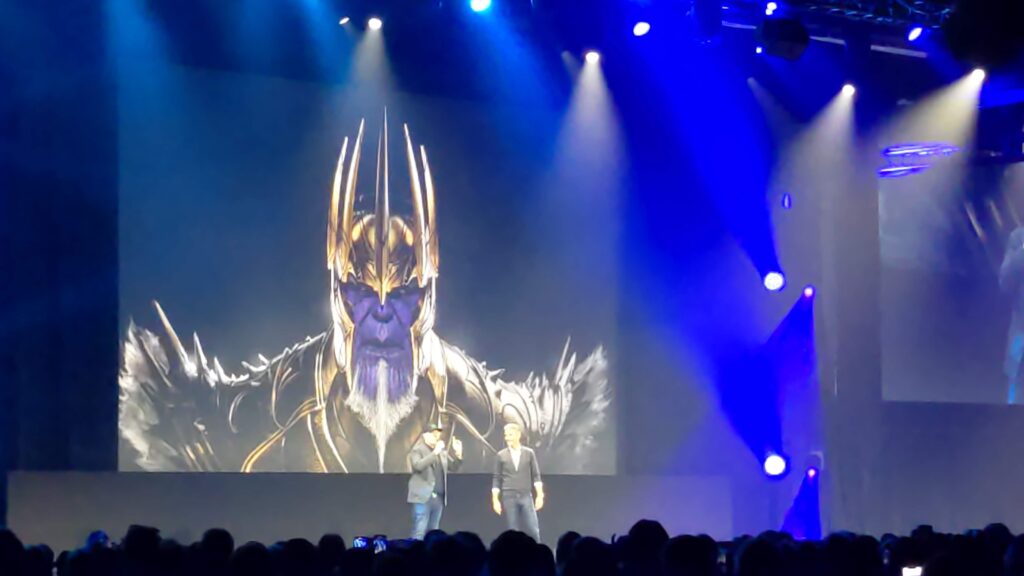 Now we shifted over to DCA and the food area at Pacific Wharf. I was not expecting this, but they will be re-theming the area to San Fransokyo (from Big Hero 6).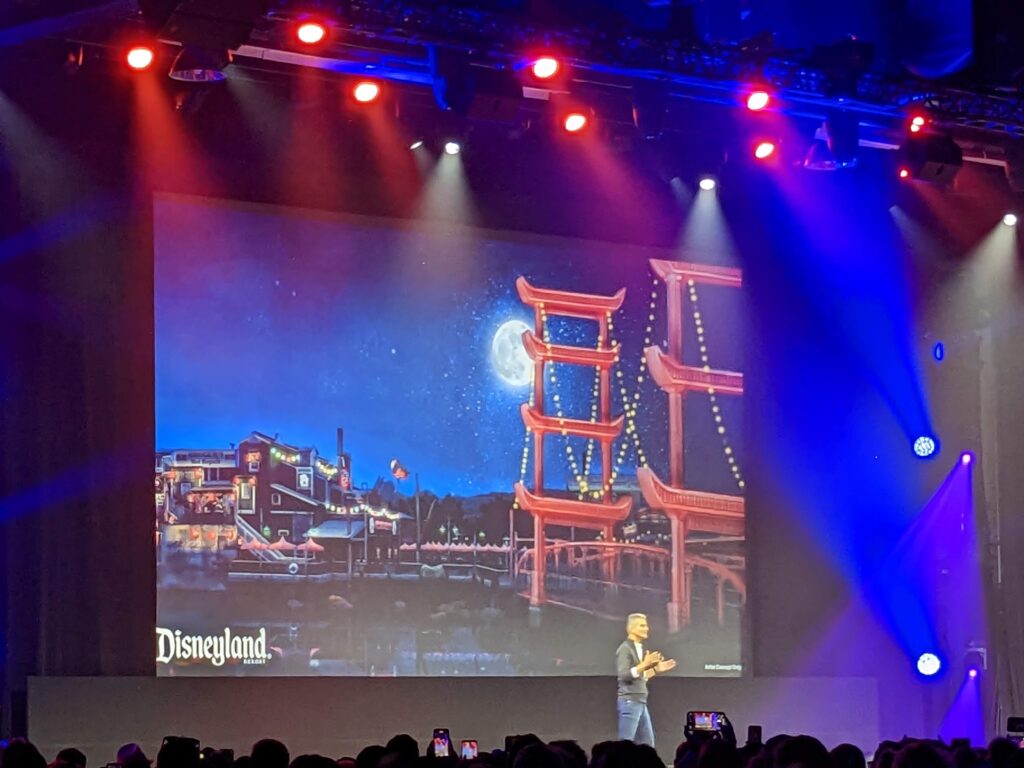 It was definitely not a secret that Paradise Pier Hotel was in need of a refresh and a re-theme. It was pretty well known that it was going to have a Pixar theme coming to the hotel, but we finally were able to learn a bit more about Disney's plans.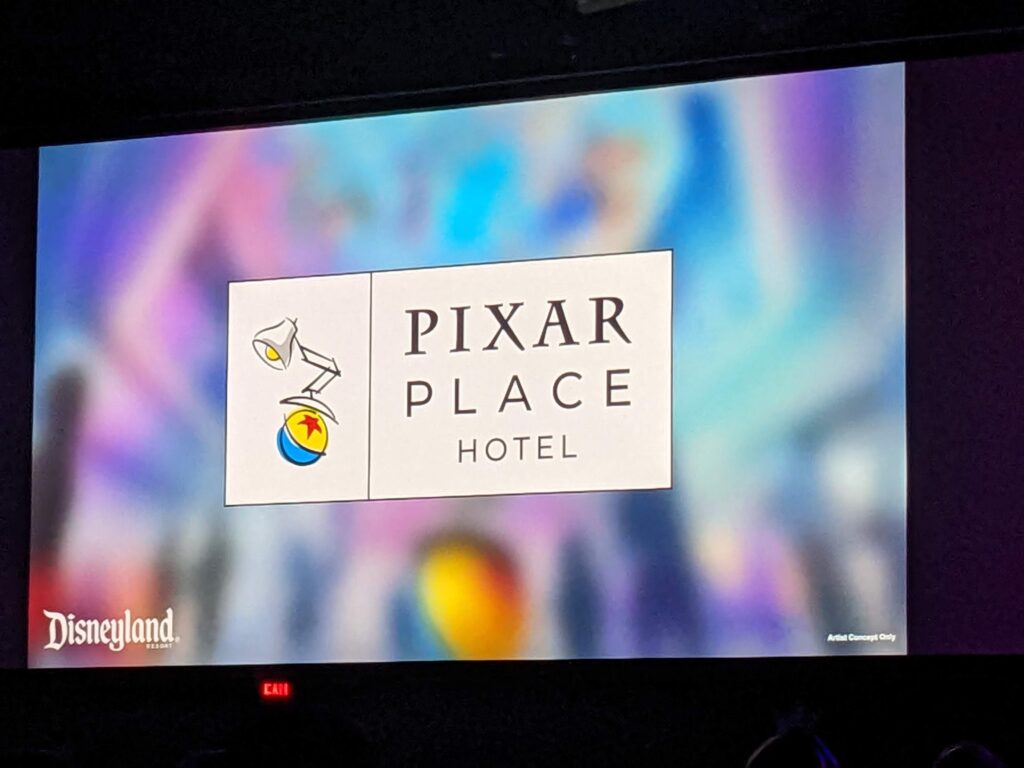 The next exciting and surprising announcement was a new bakery/cafe coming to Downtown Disney! Porto's Bakery & Cafe
One thing that has been missing from the Disneyland Resort, since the construction of Galaxy's Edge began, was runDisney events. This was something that Becky and I certainly enjoyed and participated in. We can finally expect runDisney events to be returning in 2024!
We are also looking forward to the return of Toontown at Disneyland. It appears as if there are a lot of refreshes, and of course Mickey & Minnie's Runaway Railway. It has been sad to have that area of the park closed, and it will be great to see all the excitement that will be happening in the area.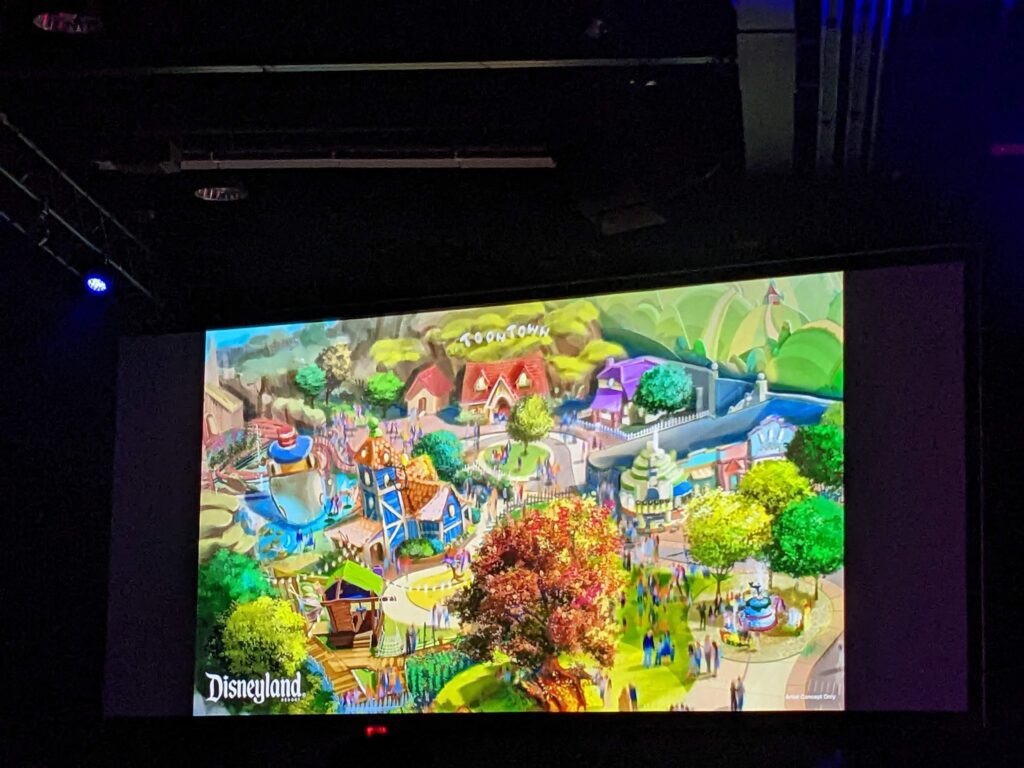 Tiana's Bayou Adventure is going to be replacing Splash Mountain! One of the interesting things they highlighted, was how it was going to transform at night, with the lights and features around the attraction. It looks like it will add a lot of dynamics to that area of the park.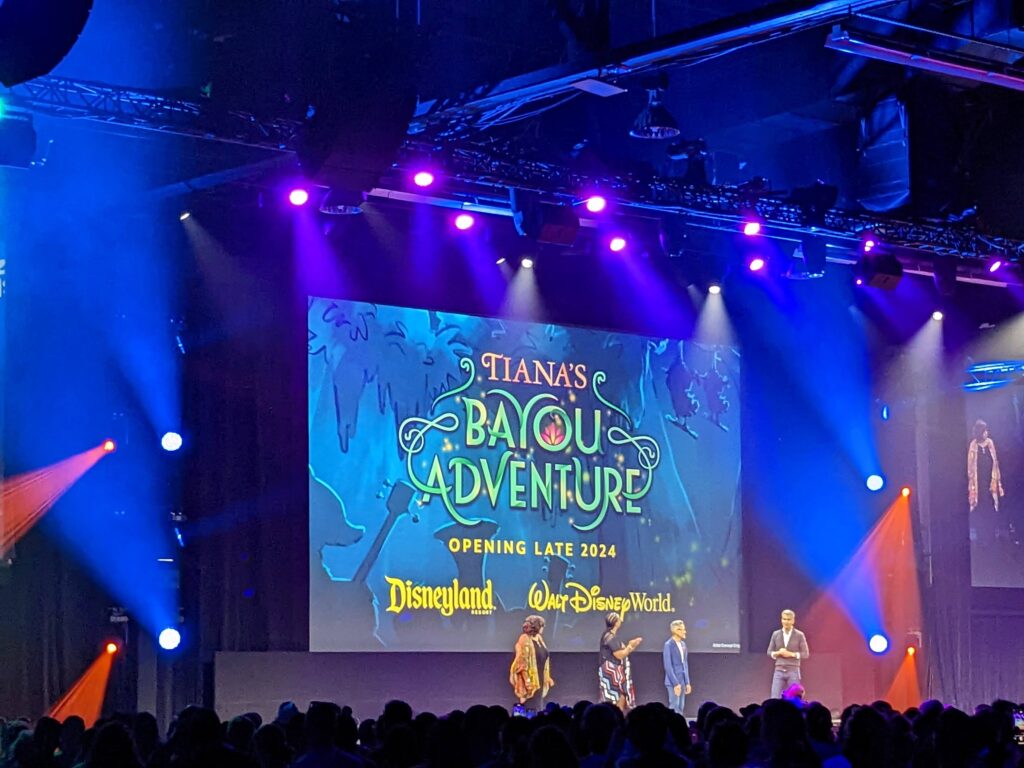 They will also be adding the Hatbox Ghost to the Walt Disney World version of the Haunted Mansion. This has caused a little controversy, which may surprise some people out there. Each of the Haunted Mansions have their own unique aspects, and the Hatbox Ghost was something unique and special to Disneyland. Sure, it will be a cool addition to Walt Disney World, but was it something a lot of guests were asking to be installed?
They did cover a bit more on some of the upcoming changes to the overseas parks, but this post is already getting quite long! So, for the sake of keeping things going, we'll skip those announcements.
As you can see, there are a fair amount of things to look forward to in 2023 and 2024. We always hope for even more to be coming to the Parks, and we'll just have to see how the next couple of years play out. Undoubtedly, timelines will change, things will be cancelled, and maybe some additions.
To celebrate the announcement of Porto's Bakery and Cafe coming to Downtown Disney, they handed out a box to everyone leaving the panel.
Walt Disney Imagineering: 70 Years of Making the Impossible, Possible
The first Imagineering panel featured Kevin Rafferty, Charita Carter, Kim Irvine, Jeanette Lomboy, Bob Weis, and Leslie Iwerks. Each shared stories and anecdotes from their time at Imagineering, and how it had impacted their lives. This was followed by a second Imagineering panel, which featured Ron Hamming, Alfredo Ayala, Emily Dow, Leslie Evans, Tommy Jones. This also had the Imagineers sharing stores and anecdotes, with a bit more technical focus on WDI's work. It is always great to hear these stories from Imagineers directly, and it is hard to not feel jealous and inspired by their work.
Mickey Mouse One: Walt's Plane – presented by Amazon
The last major part of the Expo, for me, was visiting Mickey Mouse One – Walt's Plane. D23 partnered with Amazon, to pull the plane out of the swamp at Walt Disney World and to restore the outside. They then transported it all the way to Anaheim for the Expo.
The plane is then traveling on to Palm Springs Air Museum, where they will be working with the Walt Disney Archives to help restore the interior. As I understand it, it will be on a long-term/indefinite loan to the museum. This had to have been a monumental effort to make happen, and is something Disney fans have long hoped would be preserved. It seemed as if the company had forgotten this plane forever, and it would rot away. A huge kudos to the team for pulling this often and preserving a piece of Walt's legacy.
Conclusion
I find that the Expos tend to be fairly polarizing for me. I always have fun, and really enjoy spending time with Disney friends all being in one place. However, sometimes the panels and presentations just don't click with my interests. I don't see this as the fault of anyone or a deficiency. I just have my own interests, and it is the luck of what panels end up being presented. If there aren't a lot of panels I'm interested in, it just means I spend more time going through the exhibit floor and other parts of the Expo. On the flipside, there have been Expos which just have too many panels that interest me and I can't possibly make it to all of them. D23 Expo 2022 was definitely one of the Expos which really clicked with my interests and it was a fantastic time. I didn't spend nearly as much time as I would have liked on the exhibit floor, but that was a great problem to have! We'll have to wait and see what 2024 will hold, but presumably that's the next D23 Expo. I'm looking forward to it!