Sea Day 2!
Day 4 of the cruise was another Sea Day on the Disney Wonder. After the big day in Cabo, we were pretty tired and took our morning slow and easy. We did some wandering around the ship, for the morning, taking some character photos. There was also an open house in the Oceaneers Lab, so we spent some time doing some crafts with the younger kids.
We spent some time as a family, doing a couple of the trivia activities and one of the craft activities. All of these were free (included), and you could just show up to join them. One of them was themed around Marvel trivia, and the other was Theme Park trivia. The family did fairly well in the trivia activities, but sadly didn't win any on this trip… to do some more studying!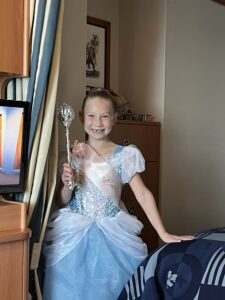 The big event for the afternoon was an appointment for the Bibbidi Bobbidi Boutique, for Emma. This was her favorite thing from the entire trip, and will likely be a "core memory" of her childhood. They make a very big story and elaborate process as part of the experience. It was everything she could want from the activity. It was also great that it dovetailed into our dinner, so she could go to dinner all dressed up. As luck would have it, the other family at our table had girls that had done Bibbidi Bobbidi Boutique as well, which made it extra magical at our table.
Dinner – Tiana's Place
Tiana's Place has a great New Orleans vibe, and a live band to help add to the atmosphere. It was also a Mardi Gras party, which meant that there was some dancing for the kids, and Tiana sang a few songs. There was also a casual opportunity for people to take photos with Tiana, to add to your collection of character pictures!
It wasn't necessarily a huge issue, but this dinner was one of the louder meals. Much of the loudness came from there being a band and it generally being a more upbeat/boisterous experience. We didn't find it to be excessive or to overly detract from our experience. However, if you are particularly sensitive to these kinds of situations, you may want to be prepared for the environment.
Appetizer
Prince Naveen's Cajun Charcuterie Board
Salad
Iceberg Wedge
Entree
Big Daddy's roasted Prime-Rib of Beef
Dessert
Tiana's Buttermilk Beignets
Southern Style Pecan Nut Tart
Drink of the Day
Calm Voyage
Dinner selections for the evening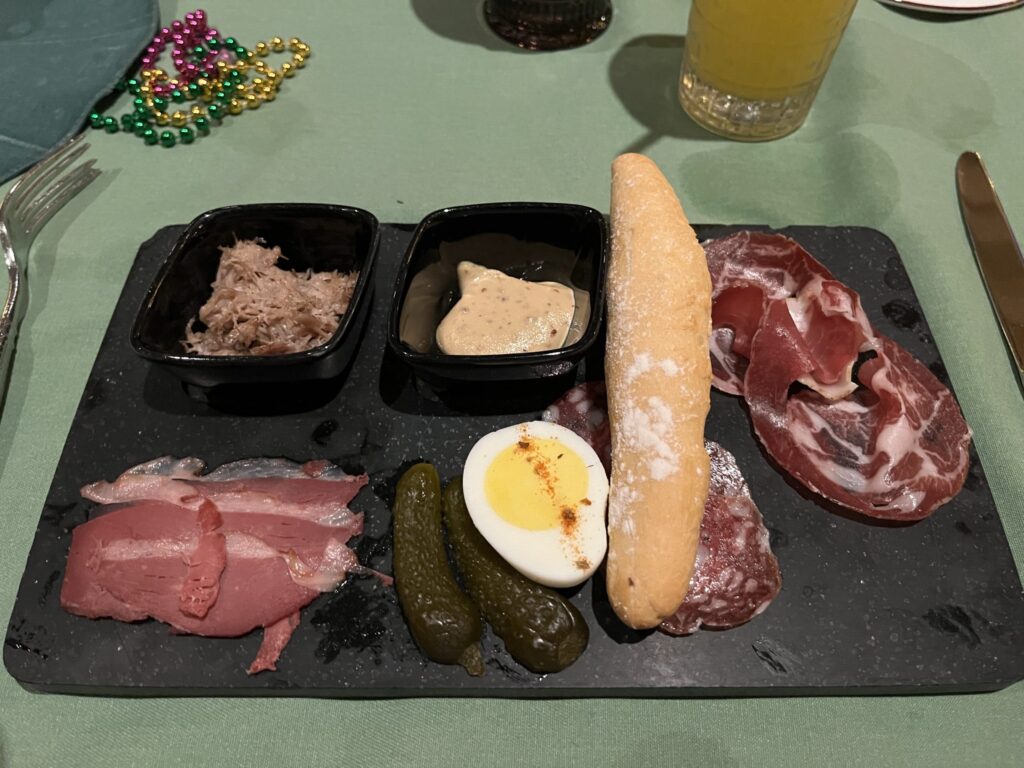 Frozen: A Musical Spectacular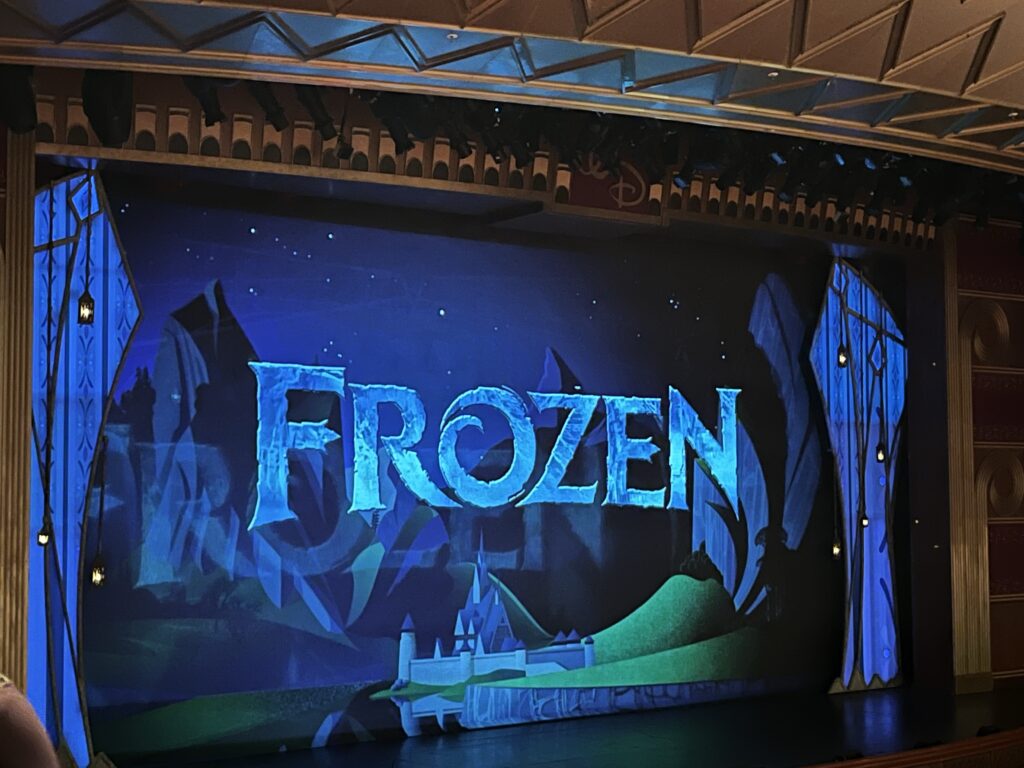 The evening show was "Frozen – A Musical Spectacular"! I wasn't really sure what to expect, as I feel I had seen many retellings of this story already. However, I was pleasantly surprised with the tweaks they made and adapted it for a stage show on Disney Wonder. As with most of the shows, no photos or videos are permitted during the performance. We really enjoyed it and would certainly recommend checking it out.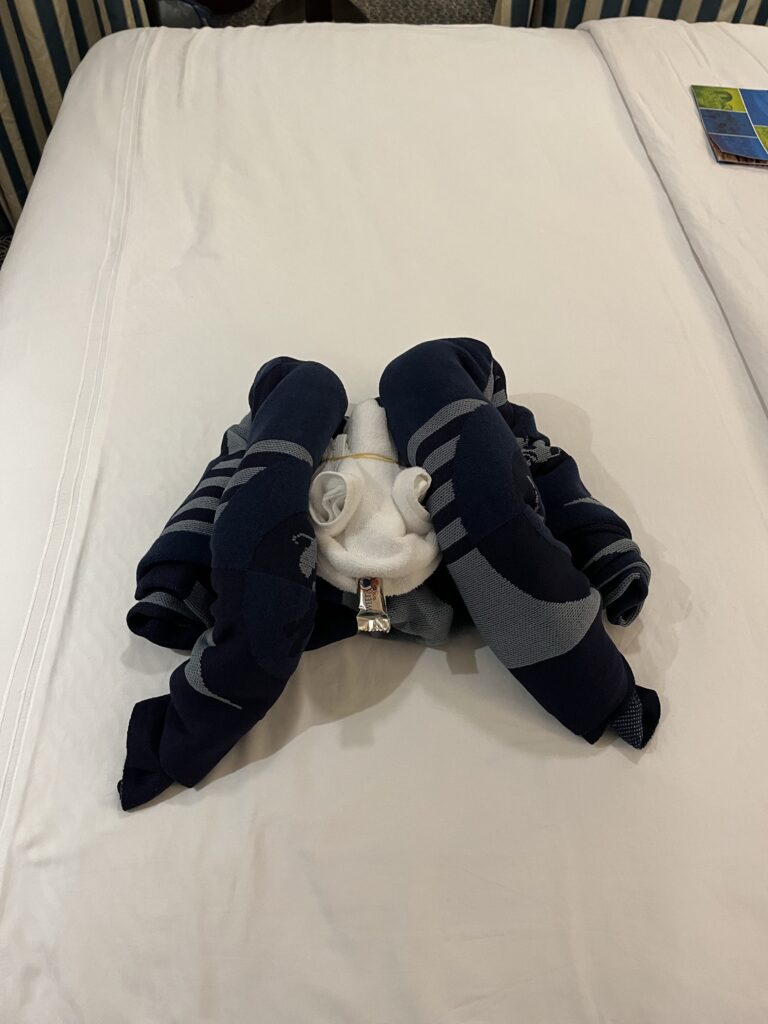 Tonight's towel/blanket animals seem to be a frog and a turtle… any other ideas or opinions? Stay tuned for our continued trip reports! Check out Day 5!