Sea Day!
On Day 2 of our Disney Wonder voyage, it was a "sea day", so no ports to visit. These are great days to explore the ship and try new things and check out some of the activities that are being offered. You'll often find lots of trivia games, bingo, crafts, and more to choose from.
We started off the morning with breakfast at Cabana's, which becomes a very familiar place! Chances are, you'll find something that appeals to your crew each day.
After our crew was fed and happy, it was time to head towards the main atrium for the "Princess Gathering". This is a pre-reserved/ticketed photo opportunity, which was with 4 different princesses. There are lots of scheduled individual character meet opportunities throughout the journey, but this one requires planning and reserving in advance. It was an easy way to cross off 4 princesses from our list in a short amount of time. We were able to meet Cinderella, Tiana, Belle, and Ariel.
Brunch at Palo
If you talk to any seasoned Disney Cruise fan, they'll likely tell you about eating at Palo. While most of the food onboard a Disney Cruise is included with the cost, there are a handful of restaurants that require special reservations and cost extra. Palo was recently increased to $45 per person (for brunch), and you must be 18yrs of age or older.
Becky had been her usual amazing self and snagged us a brunch reservation (the more coveted choice)! We dropped the kids off at the Oceaneers Club and went up to the 10th level. Walking off the elevator, you're greeted with some wonderful decor to help set the tone.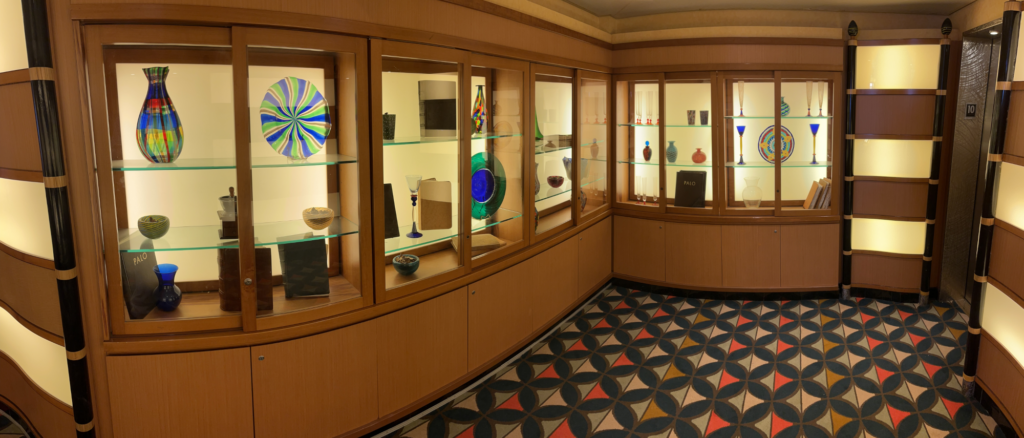 We were promptly seated at a great table, with an amazing view out the aft of the ship.
Obviously, the views and setting were fantastic, but we were here to eat! Our server Jack told us, "The first rule of Palo, is that there are NO rules at Palo!" Much like the normal dining rotation, you can order whatever you want from the menu, and as many as you desire. (Alcoholic beverages are extra)
So many choices that all sounded great, but alas decisions must be made as there is only so much that one can eat in one meal! Jack recommended we stay away from the waffles and pancakes, as they were reportedly the same as you can get downstairs.
| | |
| --- | --- |
| Antipasti | Sliced Prosciutto, Sliced Coppa, Sliced Bresaola, Salame Gentile, Marinated Cerignola Olives, Roasted Garlic, Caciotta a Tartufo, Parmigiano-Reggiano and Sweet Pepperdew |
| Eggs | Eggs Benedict with Rosemary Ham |
| Soups | Celery |
| Entree | Parmesan-Crusted Chicken Breast — Topped with a San Marzano Tomato Basil Sauce and Mozzarella Cheese, Creamy Arborio Rice Risotto |
My brunch selections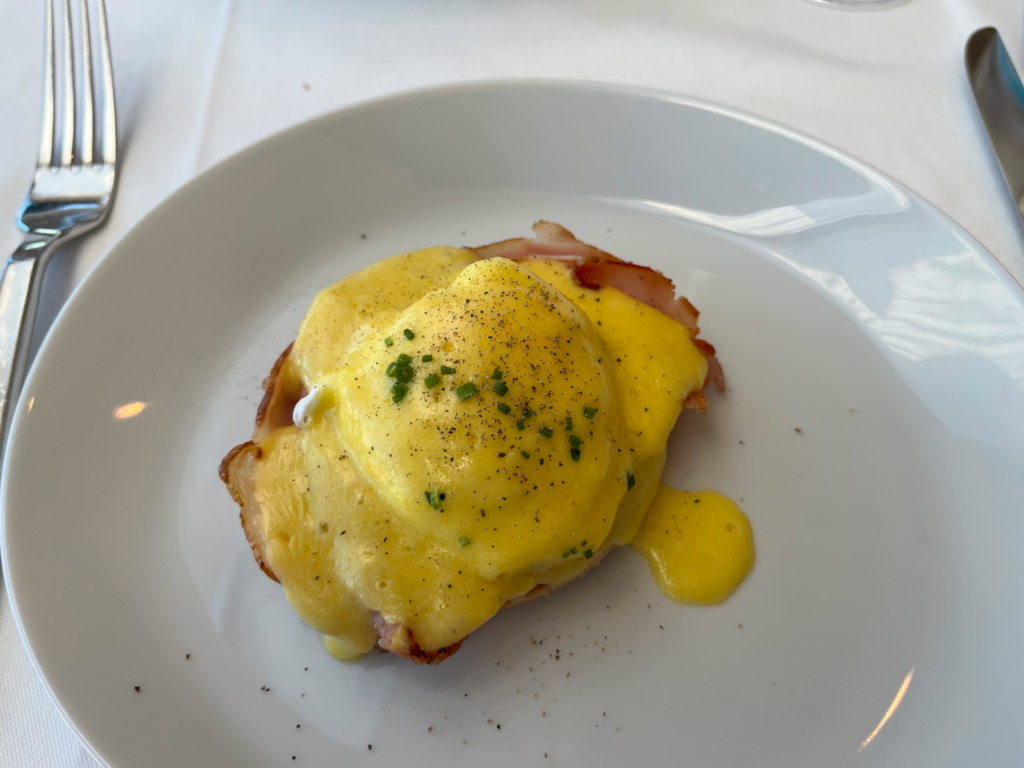 Our server highly recommended the Celery Soup, and we were extremely pleased with the choice. The name does not do it justice and seems to be a way to try to scare people away. In actuality, it was very savory and enjoyable. I would absolutely order it again on our next visit (because we WILL be doing this again).
Jack had also recommended the Parmesan-Crusted Chicken Breast, which was good… but not amazing. Becky had chosen the Lasagna Bolognese and it was a bit better and might be my recommendation for what we tried for entrees.
Next, it was time for our dessert!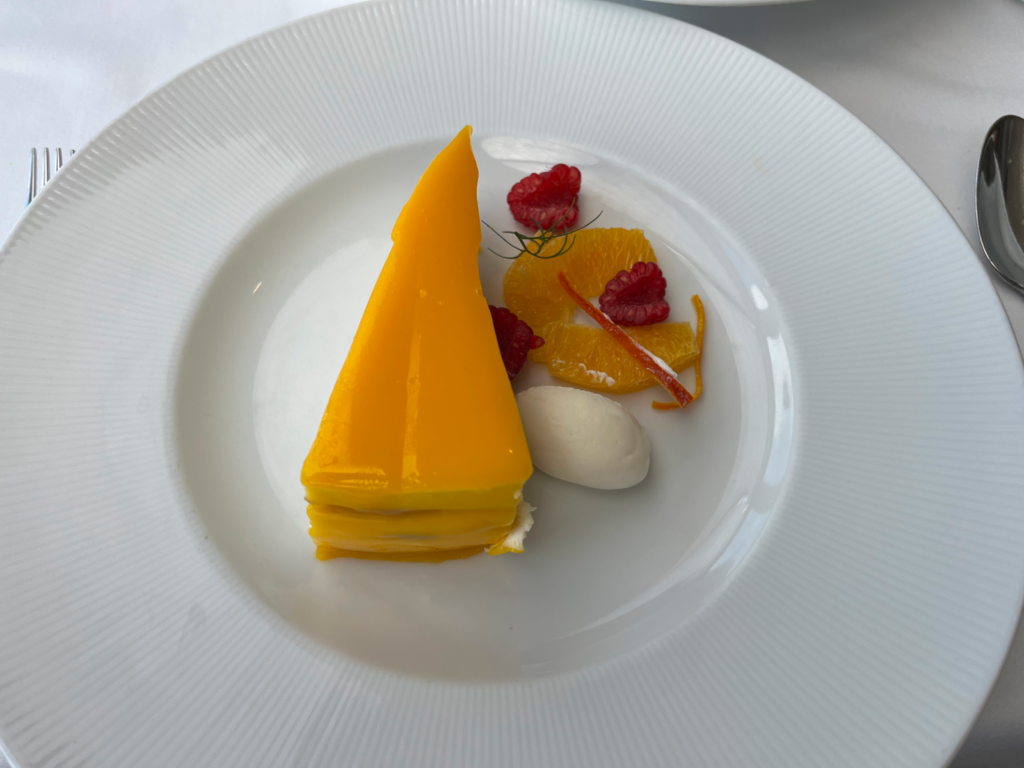 Apparently, pre-pandemic, the brunch was served in a buffet style. Sadly, it has not returned to that at this point, and one has to wonder if it ever will. I'm guessing that it is better to live in ignorance!
At this point, the kids were ready to be picked up from the Oceaneers Club and get them some food. We had some downtime in the staterooms relaxing.
Dinner at Animators Palate
Animator's Palate is a unique restaurant experience. When you are seated, you are given a coloring page and instructions, to create your own character.
Later in the evening all of the characters created are then animated into a show on the screens around the room! It is a great and unique experience, and it is fun to see your party's drawings be part of the entertainment.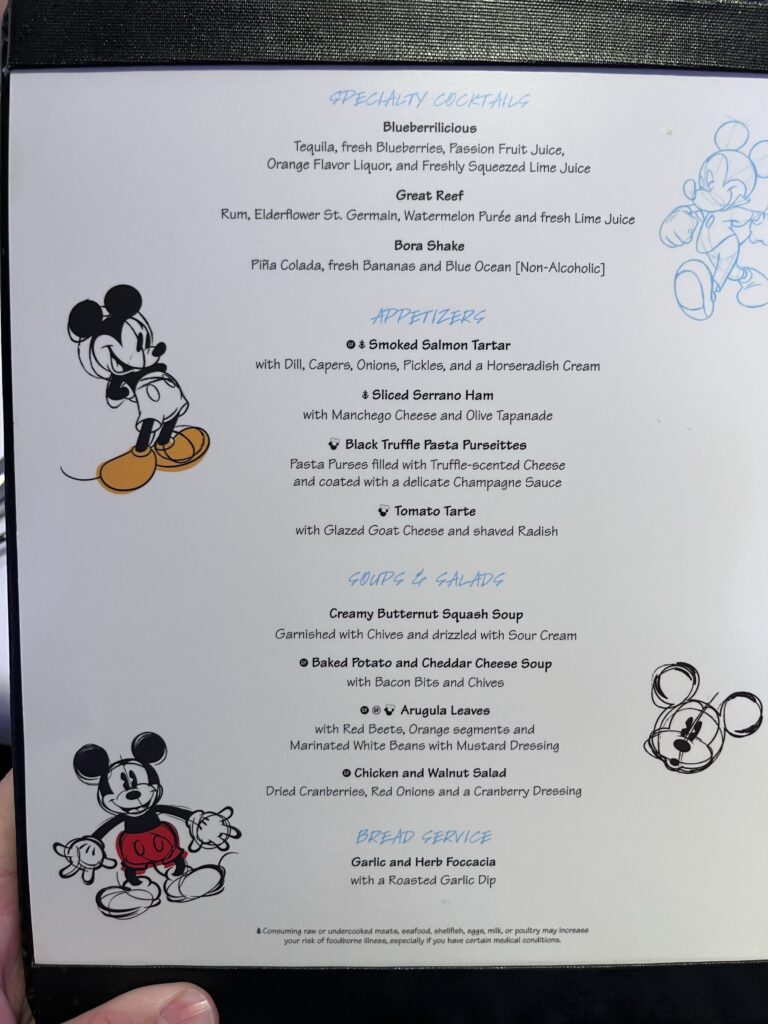 | | |
| --- | --- |
| Appetizer | Sliced Serrano Ham |
| Soups | Baked Potato and Cheddar Cheese Soup |
| Main Course | Ginger-Teriyaki dusted Angus Beef Tenderloin |
| Desserts | Cookies 'n Cream Sundae |
Menu selections for the evening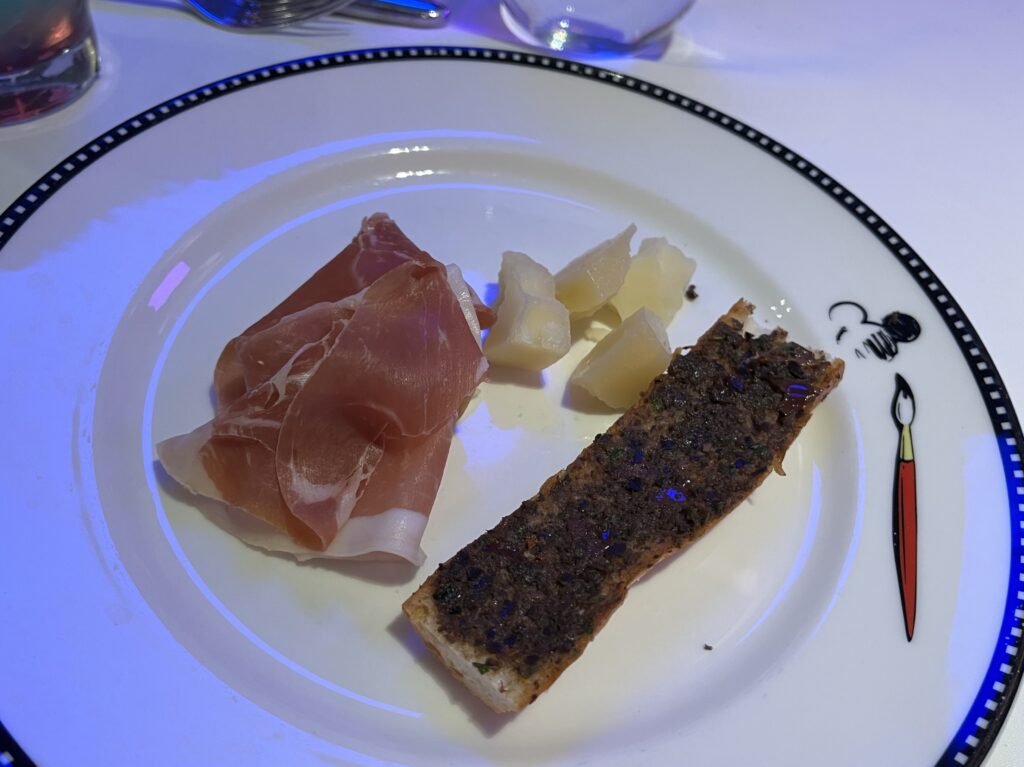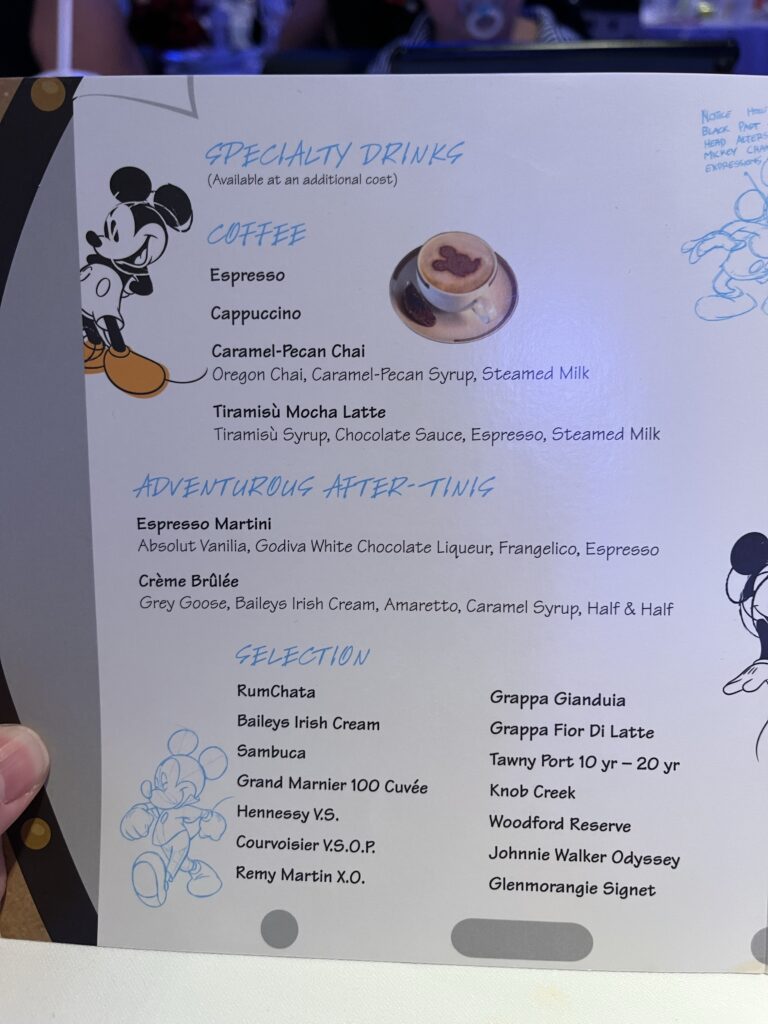 The Golden Mickeys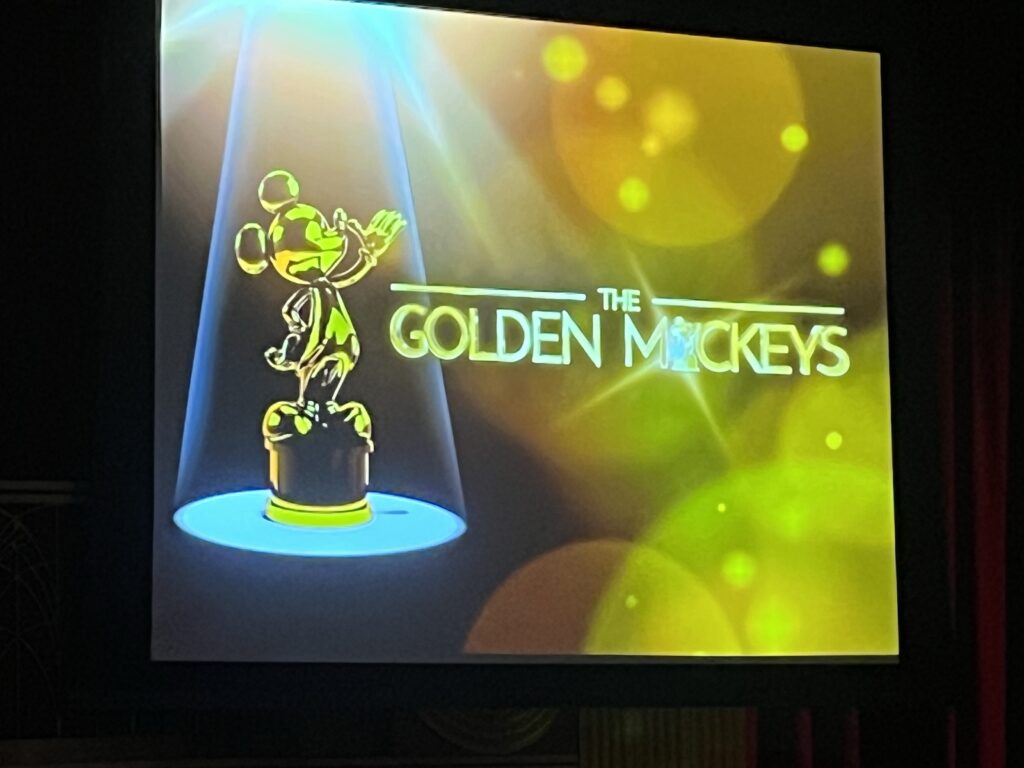 The evenings show at the Walt Disney Theatre, was called "The Golden Mickeys." Disney Cruise Line describes the show as:
You're invited to a Hollywood-style awards show with spectacular songs and special appearances by Mickey and friends. Delight in a very special night of Disney's cinematic magic while celebrating the star in us all.
Unfortunately, the rules are no photos or videos during the performances. This is pretty standard courtesy for live performances and is quite understandable.
Afterward, we returned to our staterooms to find information about our arrival at Cabo San Lucas in the morning:
We were also welcomed by the evenings towel/blanket animals!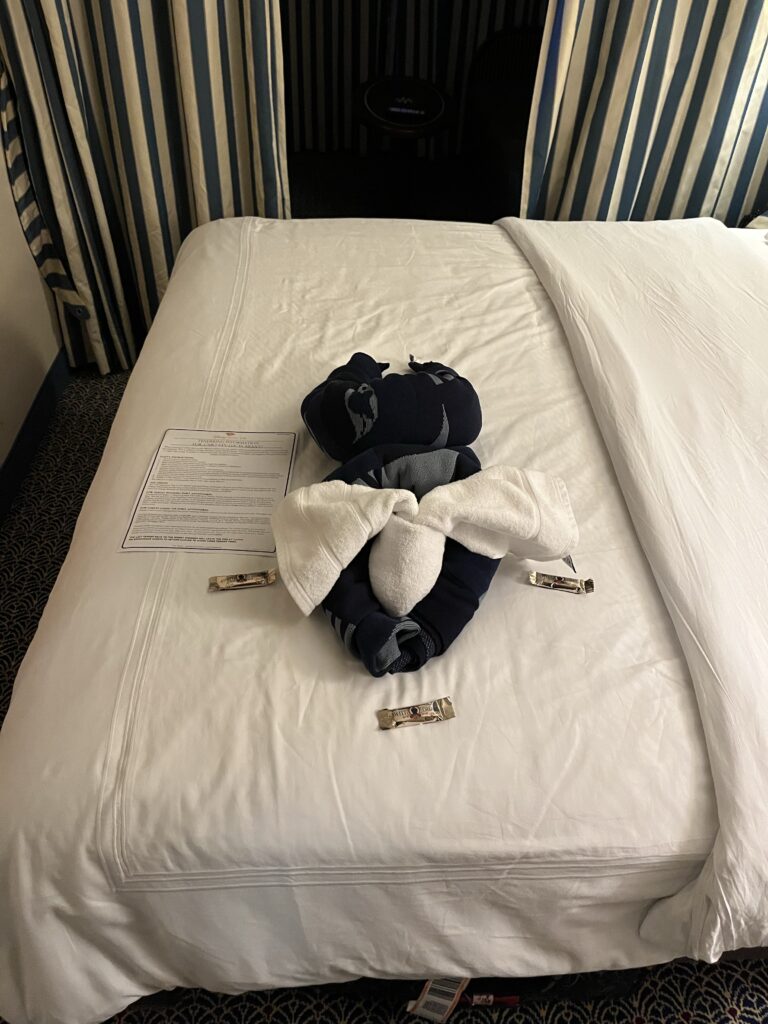 We determined it was a puppy and an elephant. Any other guesses?!
That brings us to the end of Day 2, we've got a few more days to share, so check out Day 3!