in 2022, our family took a cruise on the Disney Magic, which cruised around the Caribbean, and a "double-dip" at Castaway Cay! As a start to our 2023, we just returned from a trip with Disney Cruise Line, aboard the Disney Wonder, on 5-Night Baja Cruise, visiting Cabo San Lucas and Ensenada, Mexico. This marks our second Disney Cruise Line vacation for our family! We'll share some of our experiences, in hopes it might prepare others who are thinking of going on a similar voyage!
San Diego
The cruise started in San Diego, so we flew in the afternoon/evening before, to ensure we didn't have any travel issues that would cause us to miss the departure! We spent the night at the SpringHill Suites San Diego Downtown/Bayfront. This hotel is (almost) across the street from the port and allowed us to walk to the port the following morning. You will also find this is a very popular tourist area, with lots of food and activities. Our room was a Studio Suite, which provided 2 queen beds and 1 pull-out couch. It was indeed cozy, but more than adequate for a 1-night stay. In the morning, the hotel provided an included breakfast. which included hot items such as eggs, waffles, and bacon. Be warned that it was a bit chaotic in there, as it seemed that most of the hotel guests were also in a hurry to get to the port!
We had 11:00 am and 11:15 am port arrival times (2 staterooms), so we headed over after breakfast. While we were in line, a cast member came by and gave us raffle-style tickets to show we had the proper time to go inside. They also found a porter to take our luggage off our hands. It was great to be able to get rid of our luggage right away, and not have to drag it through any lines!
Like most travel experiences, especially Disney, you end up moving from station to station, and line to line. We first had to go through a pretty basic security checkpoint, much like you've done at any airport. You have to put your bag on the conveyor belt to be X-rayed, and you walk through a metal detector. This was fairly painless but did seem to move a bit slower than you would hope.
The next step was the more official check-in portion, ensuring we all had identification that matched our reservation. We also received the MagicBands for the kids to use at the onboard Kids Club (VERY important!). Everyone needed a wristband, the type you get at a concert or event, to show we were ready to get onboard the ship. We were also told what our boarding group would be ( Boarding Group #2) and were instructed to find a seat to wait for our group to be called.
The time finally came, and Boarding Group #2 was instructed to head aboard the Disney Wonder!
On-Board the Disney Wonder
Once aboard, we knew we had time to explore before our staterooms would be ready, much less have our luggage! We were pretty thirsty, so we went up to the 9th level and got some drinks from the soda station, and wandered around the deck. It had been pretty cold in San Diego, but the 9th level provided enough wind shelter and clear sun access that made it very pleasant!
It didn't take long before we had the kids grabbing pizza and soft-serve ice cream, getting into the cruising spirit. The kids were ready to get in the pool, water slide, and splash area! Becky had been smart and packed their suits in our carry-on bags, since we didn't even have access to the staterooms yet. It was a great way to make use of low crowds (early boarding), while keeping the kids entertained.
Staterooms
Around 2:00 pm, we were able to get into our staterooms and start getting comfortable with our home for the week. We were assigned 7600 and 7602, which are "Deluxe Oceanview Stateroom with Verandah" class of staterooms. The rooms have a queen bed, a couch that converts to a bed, and a drop-down bed from the ceiling that works like a bunk bed.
Time to Set Sail!
Next up, we had to do the "muster drill". We were assigned to assembly point "O" and met up there. They have everyone scan in with their Key to the World Cards, to ensure everyone is accounted for. During our prior cruise, it was much more simplified and required watching a video. That was the protocol during the pandemic, but Disney Cruise Line has reverted to pre-pandemic protocol. They won't end the drill until EVERYONE is accounted for, so don't be the family that was late (we weren't!).
Shortly following the muster drill was "the "Mickey's Sail-A-Wave Party"! It is a fun party, full of music, dancing, characters, and some LOUD horn blasts (scared Drew)!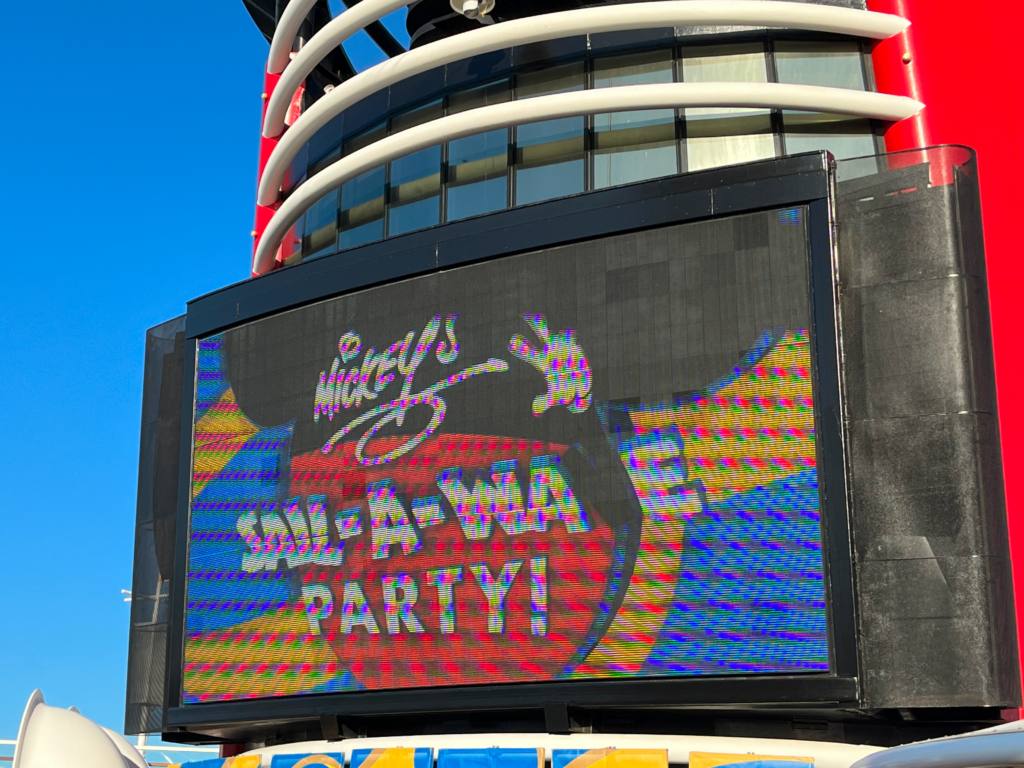 We went back to our room to relax and enjoy the sunset as we sailed out of port, and out to sea.
First Dinner: Triton's
Our dinner rotation had us start at Triton's. We were waitlisted for first dining and were granted a few weeks prior to the sailing. Seemingly, due to the waitlist, we ended up having our 5 person party combined with another 5 person party at a large table. We had hoped to have our own table, but were able to get along well with the other party!
| | |
| --- | --- |
| Appetizer | Prosciutto, Mozzarella, and Tomato Bruschetta |
| Main Course | Grilled Strip Loin |
| Drink of the Day | Paradise Punch |
| Dessert | Mango Marble Cheesecake |
My choices for dinner on night one
Drinks and a Show
The Kids Clubs didn't open until 5pm, so our kids were anxious to check out the offerings in the Oceaneers Club! We were happy to oblige and dropped them off to enjoy some quiet time exploring the ship. We decided to head toward the bars at the forward part of the ship, and ended up checking out The Cadillac Lounge. This was the perfect vibe we needed after a day of hustle, lines, and handling over-excited kids. There was a pianist playing renditions of Disney classic music.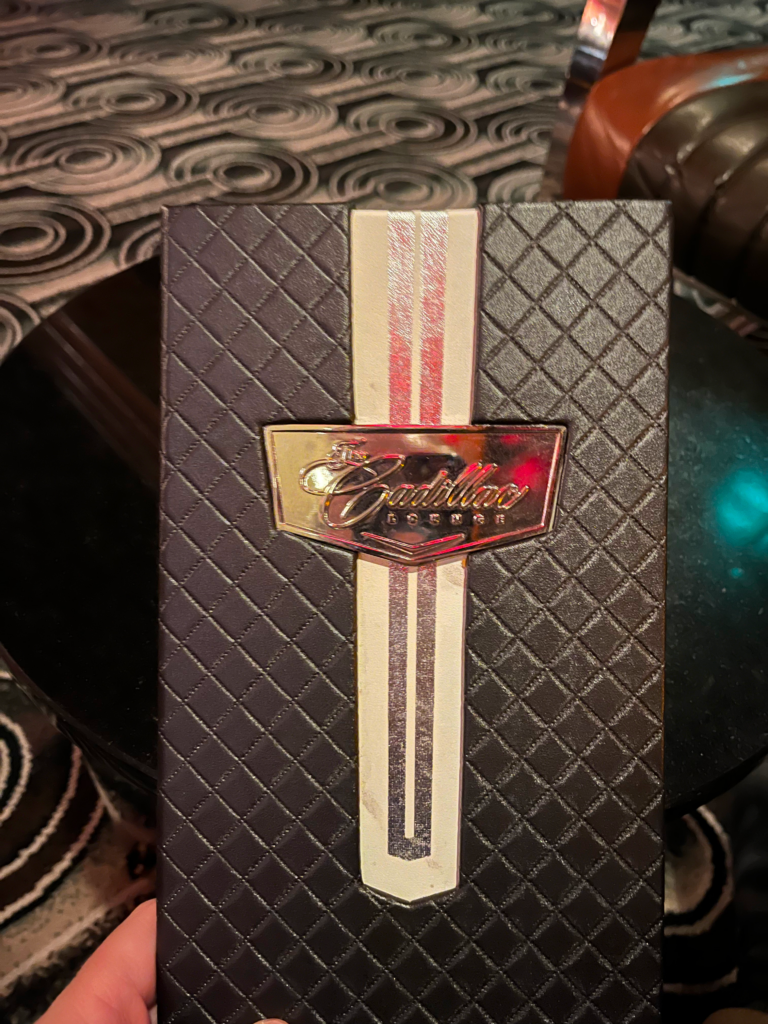 It wasn't long until it was time for the nightly entertainment at The Walt Disney Theater, with a magician named Siegfried Tieber. Siegfried has quite the accolades, including appearing on Penn & Teller: Fool Us, performing at the Magic Castle, and headlining at the Edinburgh Fringe Festival.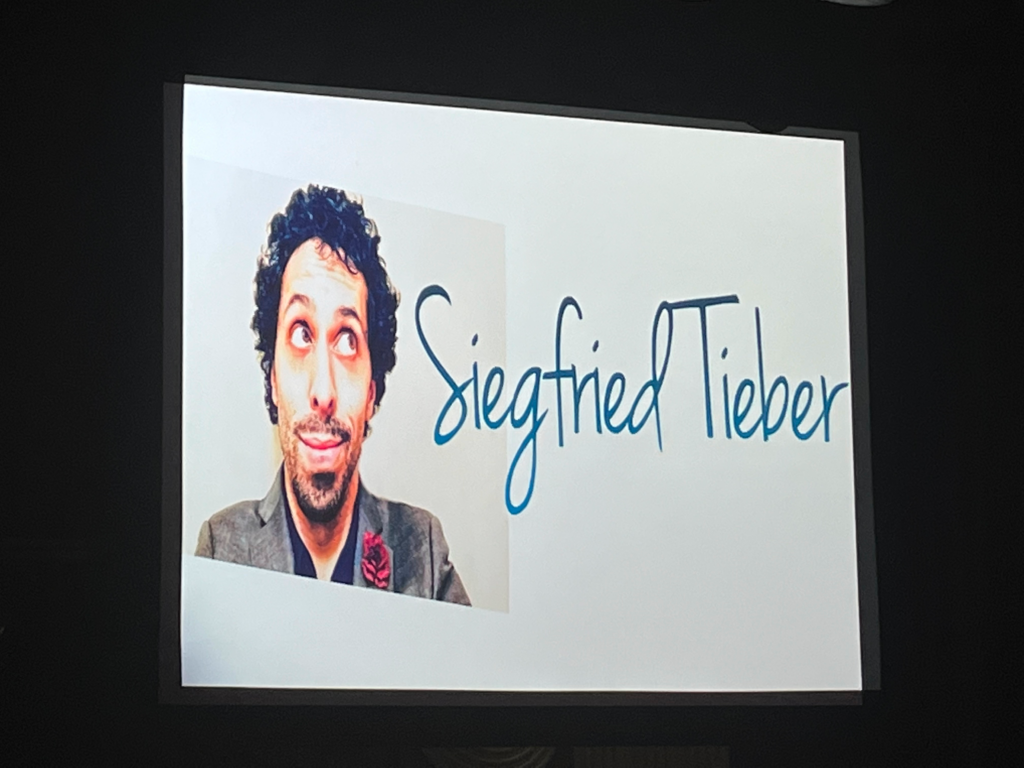 It was finally time to head back to the room and call it a day. As is customary, we were greeted by some fun towel/blankety animals on the bed. We decided this must be a lobster, but happy to hear other ideas.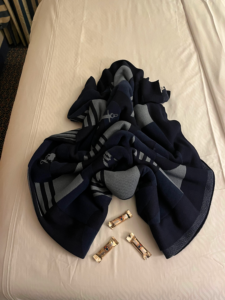 That's a wrap to day 1 of our cruise. Stay tuned to find out about the rest of our cruise! Continue on to Day 2!