The first week of our trip, we were joined by my parents, my brother and sister-in-law and finally Dave and my sister Rachel joined us for the last day. This was the first time that my dad and my brother Matt had been to Disneyland and I was excited to show them around "our park". If we're honest, everyone really came to see Button, and it had little to do with Disneyland, but hey, whatever it takes.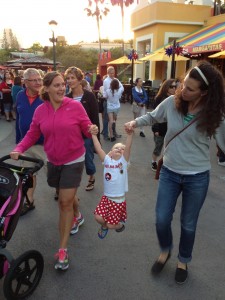 The Lodging
My family decided to join us as a bit of a last minute decision, within 3 weeks of the actual trip. I would have liked to stayed on Disney property with them, but the reality was that there weren't any rooms left that we were willing to pay for at that point. So, we stayed at the Candy Cane Inn and I couldn't have been happier with it. Here's what was great about the Candy Cane:
1. The Candy Cane consistently deals with groups well. We had 3 rooms at this hotel and they put us all right in a row – 1, 2, 3. This is incredibly convenient and it was fun for Button to run back and forth between the rooms, without being disruptive to other guests.
2. Breakfast (and parking and wifi) is included in the price of the room. Since we were staying for so long – 10 nights at the Candy Cane – having a decent breakfast made it not only more economical, but also made me feel better during the day. While the Candy Cane does serve pastries, they also had a great wheat bread, hard boiled eggs and cheese. Much more closely aligned with what I would normally eat for breakfast.
3. There's a place to go with the baby monitor. The biggest challenge I have with traveling with a little one, is getting her to go to sleep. She's so social that she'll just keep talking if I'm still in the room. One night while trying to fall asleep in at the same time as her, she kept telling me "Arrr! I'm Captain Hook!" The Candy Cane had chairs nearby our room outside where I could finish up some work before bed and let my child sleep. This time our room was situated as such that our monitor reached the pool area. Since we have a video monitor and I could see our room door, I felt very comfortable giving Button the space she needed to get some rest.
First Timers
So what do you do with someone when it's their first trip? Oh, and keep in mind, they aren't the super fans that you might be?
Radiator Racers was a big must for me. I felt that it showcased what Disney can do well. So we did make sure to get FastPasses for that. Mostly though we moved on toddler time. Pretty much the highlight of the day was watching Button interact with the princesses in the new Fantasy Faire.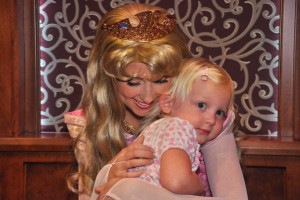 We also had a major goal of seeing Lightening McQueen with Grandpa – a show that Button and Papa have enjoyed together.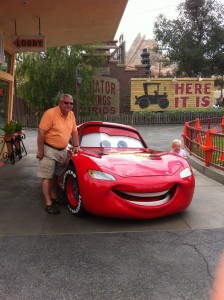 I have to say, it was really difficult to choose what to bring people to do. My parents had a 2 day ticket, and being that it was the "off-season" with shorter park hours, and that they were still operating on a different time zone, there was no way that we were going to do it all. We focused mainly on a few headliner attractions and then the toddler friendly attractions. I do regret not doing more shows, that was something I skipped just because of the allotment of time that we had. It was also warm, so I didn't feel like spending a lot of time standing in line for a show.
I was surprised at how having shorter park hours really changed how I toured. During this week, the park didn't open until 10:00am. While it was nice to not feel like we needed to be up and going right away, by 10:00am everyone was ready to do something. And not just my family- everyone. The park filled up quickly because making it to a 10:00am rope drop isn't that difficult. It also meant that we'd only been in the park for 2 hours when we would normally head back for a nap around noon. Consequently, we skipped the nap and by dinner time were tired and ready for a break. For the first time that I can remember, we actually ate dinner off property – down at Buca di Beppo. It was different, but nice and relaxing.
Day Off
This trip we did another first for us – we spent a day entirely out of the parks. I was a little uncertain about how this would go, but it ended up working out pretty well. We did do an airport run in the morning which did take up a good portion of the day. We then spent the afternoon enjoying the pool. I don't know what it is about being in the water, but that's when things start to feel like vacation for me. It was so nice to mellow out at the pool, enjoy the warm sunshine (it was about 85), and not feel like you needed to rush off.
The main event of the day was a trip to race cars at the Lego Store in Downtown Disney. My 2-year old loves this activity. There's basically a bunch of legos outside and a race track. You build a car to race, line them up, and away they go.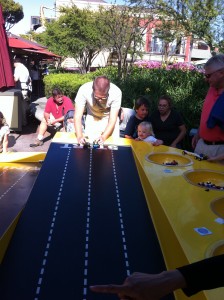 We ended the night with dinner at Ralph Brennan's Jazz Kitchen, a favorite of mine. I have to say, it wasn't nearly as difficult as I thought it might be to entertain ourselves without entering the parks.
Bigger Group
My last thought about having others join us for a trip was that it is very different moving around the park with a group of 6 or 8 than 3. Even thought it was mainly adults, it still took us longer to move though the park than when it's just our group of 3. Or maybe it was more that we actually had an agenda, rather than just following whims. Either way, it was different.
My dad thought it would be fun to do the water rides – something I rarely do any more. Somehow I got talked into doing Splash Mountain within in the first three hours of park opening. By the time I got back to the hotel (shortly after lunch), I still wasn't dry. But, we'd laughed a lot. 🙂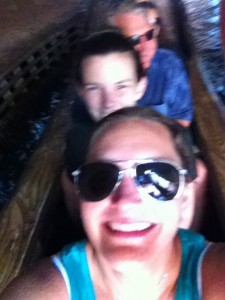 We really enjoyed having my family join us for a few days. It was a great way to break up a long trip. We would have been lonely without them.