My husband occasionally travels for work. It's not often, but it's brutal. I know there's a lot of families out there who this is their reality all the time (I'm looking at you military families), so I'm not complaining – just saying that I find it extra challenging when he's gone.
I always joke with Dave that when he travels, I'm going to take off with the kiddo for Disneyland, and that's kind of how how this whole thing got started. Dave needed to travel to LA for work, so we tagged along. The plan was that Button and I would spend the week days in Disneyland and then Dave would join us for the weekend, and we'd head back at the end of a 6 day trip. Then Disneyland added some special events the following week – Mickey's Magical Map press premier and another 24 hour day, and we quickly extended our trip to the following week, rounding it out to a solid 12 night trip to Anaheim. In the midst of all this, I invited my family to come and join me the week Dave was working. So Grandma and Grandpa from Michigan joined us, as did Uncle Matt and Aunt Sara from Ohio and Aunt Rachel from California. I swear, we had every experience available to the Disneyland visitor during our 2 week trip.
Because we were there for so long, I think I'll divide up the blog posts by experience. I have to say that I did learn a lot going for 12 days. Generally our trips last 3 days, 5 at the most. It's a very different experience going for so long. So, what did I find different?
1. I got lazy about going to the parks. Sitting by the pool became my preferred activity of the day.
2. I can only handle so much Disney food. I can never eat at all the places I want to on our trips, but I really craved things that weren't quite so rich.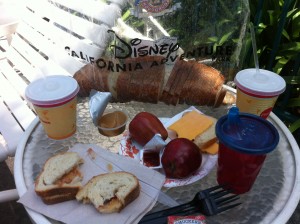 3. Maybe taking a day off from the parks wouldn't be so bad. We actually had one full day that we didn't enter the park since my family didn't want to pay for a partial day. It was nice.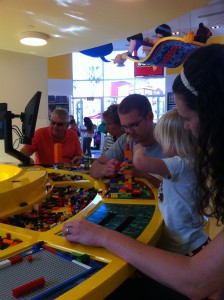 4. Taking care of a 2 year old at Disneyland by yourself isn't really any easier than being at home by yourself. But, you might have more fun and you will definitely make some memories. 🙂