We should go on a cruise! Now what?
For quite a few years, we have wanted to go on a Disney Cruise, but something has always interfered! One year, we got pregnant, another was a family member's wedding, and most recently… a pandemic! However, our most recent attempt was for Spring Break 2022! We found a deal, with an itinerary that seemed appealing for our first cruise. Becky had done a couple cruises, many many years ago, but the rest of the family has never done any cruising. The itinerary we chose was a "double-dip" (visits Castaway Cay, Disney's private island, twice) and was for 5 nights. It wouldn't be too long of a trip, if we ended-up not enjoying it, but also had the coveted double-dip feature.
As time approached, we realized this trip might actually happen! Well, now we needed to learn everything we could, to ensure it was a successful trip!
What we found useful
There are a trillion blogs and reviews online, for Disney Cruises, which all can be super helpful. Many of them are filled with pictures and videos, where you can pretty much have the full experience, without even leaving your house!? In some ways, it felt as if these were spoiling a bit of the experience, and would perhaps lessen our own view of the trip. It felt a bit unavoidable, until….
We had often recommended the "Unofficial Guide to Disneyland" and "Unofficial Guide to Walt Disney World" books, to people that were going to Disney Parks for the first time. They are playfully written, with a lot of annual updates of information, with details you wouldn't even know you needed. On a whim, Dave looked on Amazon and saw that they had an "Unofficial Guide to Disney Cruise Line" as well! By luck, the 2022 edition was being released in the following week, so it seemed like great timing. The book had a lot of great information, which we wouldn't have even known to search for online. It was also organized in a logical manner, making it helpful to find information quickly. We didn't bring the book on the trip, but it was certainly used a lot in the weeks leading up to the trip.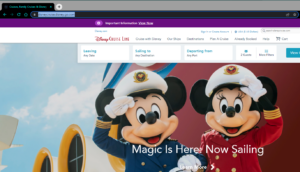 Although it seems obvious to say it, the Disney Cruise Line website is also super important. With the ever changing rules, and requirements, it is extremely important to keep updated on everything you need to know. At least for our trip, we had to do a lot of uploading of vaccination information, passports, and a plan for our youngest to get a COVID test shortly before embarking.
Important things we learned
Book your excursions early! Some of the excursions can fill-up, depending on the opportunities, itinerary, and overall capacity of your sailing. If you aren't finding the excursions you were hoping to get OR some of them are full, check with your travel agent (we recommend MEI & Mouse Fan Travel) as they often have vendors that will also guarantee your arrival time back to the ship.

Ensure you have the Disney Cruise Line App downloaded to all your devices, before getting to the port. You never know how reliable the cellular or wifi will be at port, and you WILL want this app for your convenience. You can find all of your itinerary, excursions, onboard charges, on-ship chat feature, and more. Making sure you have it downloaded, account setup, and reservation loaded will ensure you are all set. We also brought along an old iPhone, for our tween to use, to chat with us while on the ship. It worked great!

Figure out if your cellular plan will work while on your trip. Internet is a precious commodity when on a cruise ship. When you are at sea, you will be restricted to the internet Wi-Fi on the ship, which is very expensive. Reportedly, you can enable the roaming features of your phone, but that is also going to be super expensive (and not recommended). However, your cellular provider may have options that will provide access at your ports-of-call, depending on your itinerary. Our itinerary only had one port that would have worked, so it didn't make sense for us. However, you should check with your carrier (AT&T.T-Mobile, Verizon), to understand the pricing, features, and what is included.

You can have a lot of fun, even if you can't do all the things. In the Disney community the collector mind often takes over. There's a lot of competition to do all the things – the cabanas, Palo, Remy, etc. We were not able to do everything in large part because we had no childcare for our youngest child (nursery was closed). We barely set foot in the adults only section of the ship. It didn't matter – we still had a great time enjoying all that was available to us. We aren't Platinum or even Gold (you're automatically silver after your first cruise), so we have no status. We were still treated really well and had more than we needed.