Hello June! It's hard to believe we are already in the 6th month of 2022. It's half over!! 3-5 months seems to be a little late to give an accurate trip report, but I did want to put up some information in the blog about our Walt Disney World trip (February 2022) and our cruise (April 2022). So rather than giving a run down of how things went from day to day, I thought I'd play a little game of "Who Wins?"
THE DETAILS
Walt Disney World
6 nights at Old Key West, 1 bedroom (thanks American Airlines for making us miss our first night)
6 day park hoppers (we only used 5 thanks to our flight mishaps)
Disney Cruise Lines
5 night cruise out of Miami, double dip to Castaway Cay
2 category 5b Deluxe Verandah Cabin – we didn't actually book this, we booked a guarantee verandah and got a lovely push up. Thanks Disney, now I won't settle for anything else and it's going to cost me the big bucks.
CATEGORY 1: POOL TIME – Old Key West!
Clearly this is one of the most important things to me and it has a clear winner: Old Key West. In all honesty, I was a little disappointed with the pool space on the Magic. Old Key West on the other hand was a delight. I loved having the beach/sand area for the kids to play in and then the pool right there as well for my big kid to take continuous trips down the water slide. I think what really made this work for me was that while we were sitting pool side I was making Genie+ reservations. I hate trying to come back to the resort in the middle of the day at Disney World – it's such a time suck. This way, we could wake up late, swim for a while, get everyone clean and head to the parks and stay late into the cool evening. Our Genie+ reservations were all made right in a row so we didn't wait much and had a great time not fighting with our 2 year old who had gotten all his wiggles out at the pool.
The Magic's pool/play area is little. And that's ok, I get it. It was amusing watching all the little kids swing side to side in the kiddie pool on our sea day. We had 2 days at Castaway so those would definitely surpass the Old Key West pool – but technically that's the beach so I didn't count it. It is possible the weather played a role here. On the cruise, it was in the mid seventies during the day, which for these Californians was a little cold. However my kids were not enthralled with the pool and splash pad on the ship.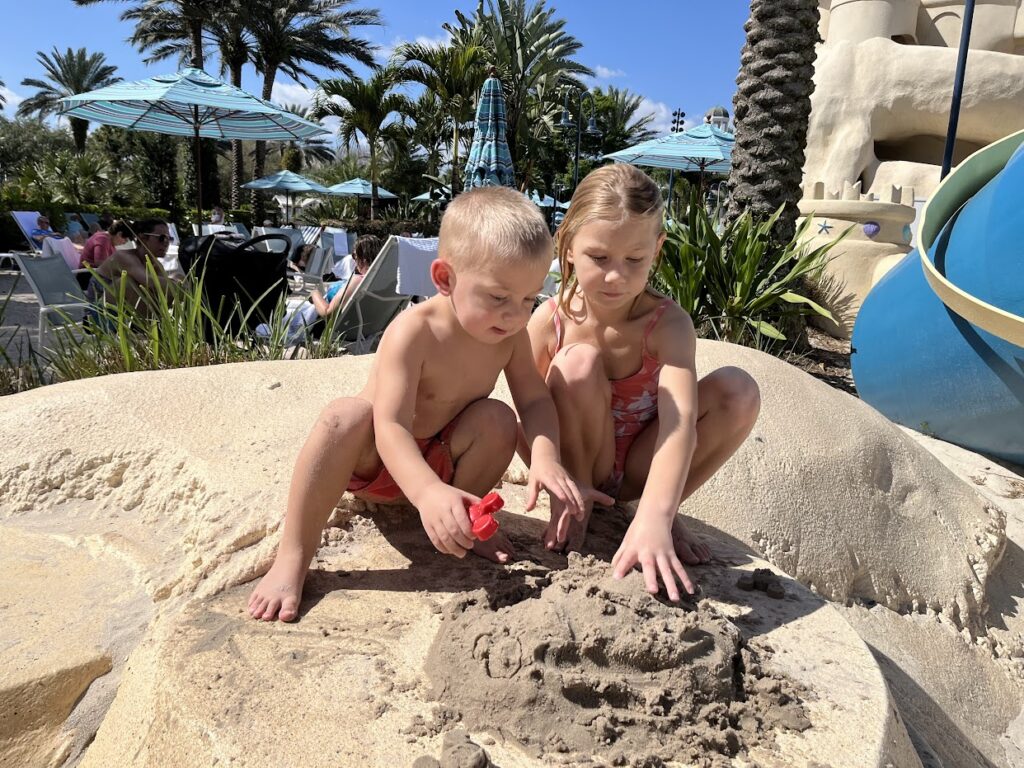 CATEGORY 2: FOOD – Disney Cruise Line
This was not actually a clear cut choice for me. We ate a lot of great things at WDW – many of which were better than the food I had on DCL. Highlights are of course Woody's Lunchbox, any churro, the popcorn, Tusker House dinner buffet, the margarita at San Angel Inn, and also a surprise dinner at the Plaza Inn.
While the food in the dining room on the cruise was decent I wasn't necessarily blown away by anything I ate in the dining rooms. My overarching critique of the Disney Cruise Line food is that they would be better off serving food that is more local to where they are cruising than trying to stick with some theme. I can happily eat nut-crusted fresh fish while watching Rapunzel sing. I do not need German inspired fare to make me feel more immersed in the theme.
The main reason that DCL wins in the food category for me is the ease of finding things to eat (although I'd like to see more desserts accessible all day), and the variety. There really is something to be said for telling your kid "go get an ice cream" anytime they ask for a snack. Our middle child is pretty picky, and I would likely pack her more goldfish the next time we go, but in general the food selection kept everyone happy. We did make good use of the refillable popcorn bucket, although in retrospect I should have bought one for each kid. The fresh fruit and fresh seafood at the lunch buffet were a win for me and definitely help cinch a win for DCL in this category.
CATEGORY 3: SLEEPING ARRANGEMENTS – Disney Cruise Line
If there's anything that can make or break a vacation for me, it's sleeping arrangements. If I don't get to sleep it really sucks the joy out of the vacation. One of the reasons we chose Old Key West was the fact that it included a sleeper chair in addition to a pull out couch. Now granted, we could have stayed in a two bedroom (would have cost us a fair amount more money), or moved to Art of Animation for more sleep surfaces (but then we would have missed out on the extra evening hour WDW offers to deluxe guests). As it turned out, we shoved Drew into a pack and play even though he didn't really fit so that everyone could have their own sleep surface. Our kids do fine at sharing a room, but it turns out they are terrible at sharing beds. We tried to make two of them, in a variety of combinations, share pull out double. No one was sleeping so that was miserable until we put Drew into the crib.
For Disney Cruise Line, everyone got their own sleeping surface and this was parenting bliss. No one was fighting over covers or where anyone's feet were. We had two day beds, and 2 queens between the two rooms and this worked great. We could put the kids to bed in the same order they go at home which helps to keep bedtime smooth. There's also a privacy curtain between the beds that means one person can have the light on and not bother the other. My kids seem to be able to fight about anything, so anytime we can eliminate friction, we use that opportunity.
CATEGORY 4 – ENTERTAINMENT – Old Key West
Here again, this is a tight race. The two vacations could not be more different. I did find the shows on the Magic to be great. I was impressed that our two year old had no problem sitting through both the Tangled show and "Disney Dreams." At one point, our older daughter said, "I do wish we could go on some rides today." I think if our cruise hadn't had the name "Disney" in it, our kids wouldn't have expected quite so much. If we were comparing this trip to our Christmas vacation in Hawaii, they would have likely had different expectations. While there were a lot of things to do – trivia, movies, dancing, etc – it wasn't quite as exciting as my kids may have hoped for. The pace of some of the trivia shows and drawing was downright painful. I think some of this was due to the cast members still getting their groove back on the ship.
In February we seemed to hit Walt Disney World just right where we were able to get on almost everything we wanted with relative ease. We did go during Presidents' Week, so it was busy. But you could still purchase several lightening lanes individually in addition to Genie+. Disney wanted all our money and they got it. When we ended up getting our vacation shortened by a day because of our airline mishap, I decided we were just going to pay to do everything. I wasn't going to fly all the way to Florida and not ride some of these things. We were not successful in getting on Slinky Dog, but decided to let that go. We also choose to not chase Rise of Resistance as we have had multiple rides at Disneyland. Because we had stayed at a deluxe villa resort, we were able to make use of the late nights at Magic Kingdom and Epcot for deluxe guests only. This let us ride things like Frozen and Remi with waits under an hour. Since we are flying in from the west coast, it has worked well for us to keep our kids on Disneyland time and let them stay out late and sleep in. I'm fairly certain that midnight was the time we arrived back to our room most nights. It was a very enjoyable strategy for us.
CATEGORY 5 – MEET AND GREETS – Disney Cruise Line
There's a clear winner here in Disney Cruise Line. Both of trips occurred the middle of the social distancing with characters. This bothered me far less on the cruise line. They had lovely little spots you could stand on that made the pictures seem more staged than the awkwardness of the parks. Some of this is definitely dependent on who is performing as the character. The sheer abundance of character meet and greets on the cruise line was staggering.
CATEGORY 6 – MANAGING THE CHILDREN – Disney Cruise Line
Managing the children is code for "discipline". I know the word discipline sounds harsh and unfun, but the reality is that your kids are likely going to need some kind of correction sometime on your vacation. Or maybe your kids are better than mine…. They probably are. Regardless, it's not uncommon for our children to have some kind of melt down at some point on our trip. I found this easier to manage on the cruise. For one thing, access to our room while onboard the ship was far easier than being in the middle of the park. So when Drew, for example, throws popcorn all over the floor in the middle of the character line, it's not hard to pick him up and walk up 2 floors to our room where he can carry out his tantrum in private. Compare this to standing in the middle of Animal Kingdom while you try and muscle your screaming child into his stroller while the general public stare in awe at his strength. It's just a different level of embarrassment. Couple this with the fact that there are kid's clubs for the children to give you all just a little space from each other and it really becomes a win. I wish I had a photo to insert here of some naughty child, but I don't. I'll do better next time. Instead, enjoy this one which gives you insight into the level of personality we are dealing with here.
BOTTOM LINE: You can't make a bad choice!
There's a lot of hype right now about Disney and if it's worth it. I'm working on another post that has some thoughts about that. For now I'll just say, a vacation is what you make of it. We had the best time of both of these trips. Neither one was perfect by Instagram standards, but we made some great memories that our kids bring up weekly. That to me, is money well spent.